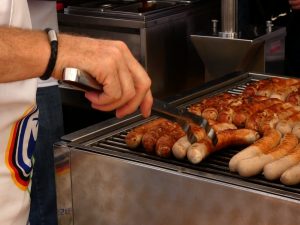 Summertime beckons. It's time to pull out the backyard grill and enjoy fun and food with family and friends. Become a master griller with these great grilling tools guaranteed to impress.
Grilling Gadgets
Never burn a kabob again! Wireless smart meat thermometers will help you monitor the temperature of meat cooking on your backyard grill. Many thermometers work with an app on your smartphone to help you know when food is ready to serve. And yes, there is a robot that will clean your grill for you! The Grillbot helps clean away charred food from your grill. An integrated timer and alarm give you more control, letting you know when the grill is clean and ready to go.
Tools
Need to clean your grill? Try tools like the Grill Daddy Pro, which helps you keep your grate clean. The combo brush uses steam to melt away grease and clean your grill. If you want to opt for a more natural way to clean your grill, try the Great Scrape Woody Paddle, which is a simple wooden paddle you can use to clean away the gunk. For grilling indoors or outdoors, the pre-seasoned Lodge Double Play Reversible Grill/Griddle provides a durable surface to cook everything from pancakes to burgers.
Pizza Pizza!
Have a hankering for grilled pizza? There are a number of portable pizza ovens that can be used with your grill to create deliciously scrumptious pizza to go with your burgers and hot dogs. For a less expensive option, try a non-stick pizza pan. Williams-Sonoma has a grill-safe pizza pan that can withstand very high temperatures. The result is a yummy brick-oven pizza. Make a scrumptious pizza along with burgers and hot dogs for a wonderful summertime feast.
From fun grilling gadgets to making pizza on the grill, you can find great ways to enjoy food and friends in the hot sun. This summer enjoy a number of fun gadgets and tools to help you make your summer cooking spectacular!