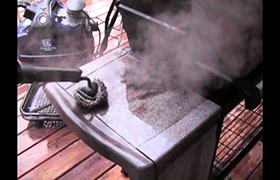 Can you smell it already? The delicious smell of grilled meat fresh off the BBQ? It's one of the definitive smells of the summer – but if you're not keeping an eye on your grill, then that smell might not be around for much longer. If you need BBQ repair in Toronto, here are some red flags you might come across.
BBQ Repair in Toronto – 5 Repair Red Flags
Upselling
We've all experienced the pushy salesman who's desperate for a commission and will try anything to push products onto you that you don't want and don't need. When trying to get BBQ repairs in Toronto, if the person you call tries to sell you products, then you need to call someone else. It would be hard to distinguish between whether you have a genuine problem with your BBQ or if they just see dollar signs when looking at you, so make sure you're only enlisting the services of a repairman who's sincere and only wants to repair your BBQ.
No Quotes
Many people are shy when the topic of money comes up and are reluctant to ask "how much?", but you're well within your rights to know. If the repairman is reluctant to give you a quote, then alarm bells should be ringing. The advantage of a quote is that it gives you a rough guide as to how much you could expect to pay and you can compare it with other contractors to check it's fair. If they're reluctant to give you one, you could be in for a nasty shock when it comes to settling the bill.
No Qualifications or Experience
Just because someone helped to repair your furnace doesn't mean that they should be called to fix your BBQ – it's completely different. Whilst some may be willing to give it a go, you should stay clear of them. Not only could they do more harm than good, it will take them a lot longer and run you up a bigger bill in terms of labour costs. There are plenty of contractors for BBQ repairs in Toronto without having to turn to someone who isn't qualified or experienced, so don't.
No Access to Former Customers
If you call a BBQ repair company and they don't put you in touch with their previous customers, what are they trying to hide? It's a great way to learn about the professionalism and practices of a business, so make sure you can talk to them.
Pressuring
Remember, it's your BBQ and you have plenty of contractors to choose from. IF they pressure you into a decision you should avoid them – you shouldn't be made to feel uncomfortable about it.
Pick One of the Good Guys
By searching on the internet and asking friends and family, you'll quickly sort the good guys from the bad guys. Do your research and be confident, and you won't have a problem with getting your BBQ repaired.