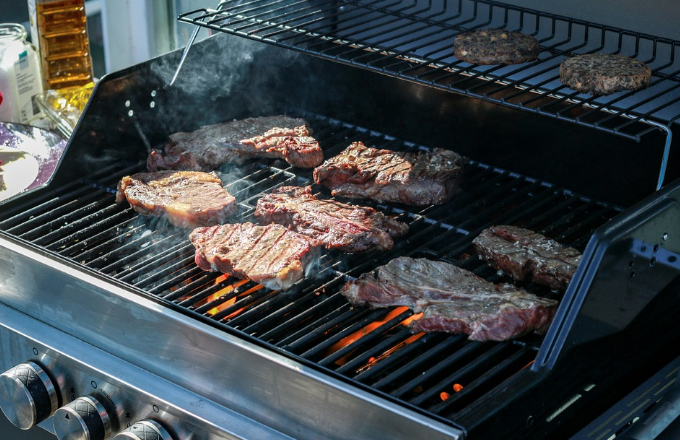 Summer grilling starts again. So you're headed to the BBQ Grill sale or pulled out your grill from the garage. Maybe you've invited friends and family over for a feast and now face a very, very dirty grill. Or does your grill look irreparable after a winter of disuse? How do you clean your grill?
Regular Maintenance
Basic cleaning is minimal. If you just bought your new grill at a BBQ grill sale, then you can maintain the grill with a basic cleaning each time you cook. Do a major seasonal scrub-down with a stainless steel grill brush. Clean the grates and racks after every use. Brush of any residue then scrape the grates with a scraper tool.
After you have removed debris and dirt, wipe down the racks and grates with a damp rag. For cast iron, rub vegetable oil into the grate with a paper towel to prevent rust. Avoid heavy build-up of grease.
Charcoal grills need to be empried of ashes. Clean all the parts yearly. Use hot sopay water and a nylon brush. For tougher cleanings, use scrub pads and warm water.
Gas Grills
Clean your grates and racks each time. Clean the heat deflectors by removing them. Scrub them with a nylon brush and warm soapy water. Dry them before replacing them. Clean everything once a year.
Inspect Your Grill
When you do your annual major cleaning of your grill, look for broken parts. Replace anything that is broken. You can prevent damage by storing your grill indoors during the winter.
Cover Your grill
Prevent damage by covering your grill. This will limit the amount of dirt, cobwebs, insects, and dust that can affect your grill. A dry cover will prevent corrosion.
Time to Call the Pros
Does your grill look hopeless? You might need to call in a professional. We provide expert cleaning and repair for all types of grills. We will check for leaks and inspect your grill for damage. Save time and money. We will make your old grill look brand new. Call us today!