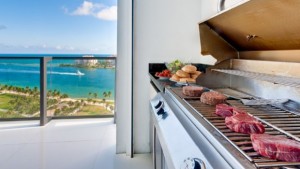 Have you ever tried to fix your BBQ yourself? It can be a difficult process, and with the time and money it takes to get it done, it's often not worth it. Professional maintenance services can make it much easier. Read on to find out why you should let the pros do the fitting for you.
Why You Should Use Professional BBQ Maintenance Services
Complete BBQ Inspection – When you get professionals to install your replacement BBQ parts, they'll also carry out a thorough inspection. While they're at it, they'll even clear your firebox. This means that any potential issues can be identified ahead of time, reducing the need for extra maintenance in the future. As a result, you'll save money on your BBQ maintenance.
Quality Parts – When you're shopping for BBQ parts in Toronto yourself, it can be hard to know which ones to choose. Unless you're experienced in this type of maintenance, you may not be able to tell the difference between quality parts that will last and duds that will break after a few uses. You could even end up buying the wrong parts altogether and end up having to go back to the store to exchange them. BBQ pros know exactly which parts to use, so you don't have to shop around.
Skilled Specialists –While DIY fitting might seem like a simple task or a fun project at best, a slight slip up could be dangerous. If parts aren't fitted correctly, they could lead to gas leakages. Professional contractors have all the knowledge and expertise to take care of your BBQ the right way. They'll make sure everything works as it should.
Save Time – Buying and fitting everything yourself is a time-consuming task. Why waste time doing it yourself when professionals can do it for you in an instant? Let the pros do the work for you, so you can spend time on things that are more important to you.
Better Taste – When a BBQ isn't properly maintained, food that's been cooked on it doesn't taste quite as good. This is sometimes because it isn't cooked as evenly as it should be. Professionals will fit new

BBQ parts in Toronto

and tune everything up to avoid this problem.
A BBQ that Looks as Good as New – When the right parts are fitted the right way, your BBQ will look as good as it did the day you bought it. Regular upkeep will extend its lifespan, so you can keep using it for years to come.
Get BBQ Parts in Toronto with Annual Maintenance
It's easy to forget about BBQ maintenance until it's time to use it. The summer rolls around, you pull out the BBQ, and suddenly realize it needs fixing. That can really dampen your summer party plans! At Ashton BBQ and Grill Pros, we offer a once-a-year maintenance service. We can fix everything for in the spring, well ahead of time. Sign up for our convenient yearly service, and we'll give you a discounted rate.