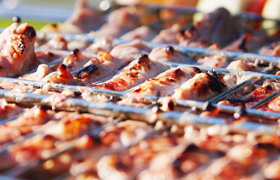 Inviting the neighbours over for a barbecue on a beautiful summer's evening, with a few drinks and some music is one of the most fun and enjoyable things you can do in life. It's something you used to picture yourself doing when you were still growing up. And to keep it fun and enjoyable, it's important to get it right. Yes, you need to figure out what food, how much food, plates, drinks, music, chairs and all of that stuff, but have you actually been taking care of your barbecue grill itself?
Why Is BBQ Cleaning in Toronto So Important?
As with any tool – especially one that uses a lot of power – maintenance is essential to ensure it continues to work properly, efficiently and safely. Cleaning is always an important part of that maintenance. If you don't personally have the time, you could track down a pro that offers bbq cleaning in Toronto. Failing to do so can have several negative consequences, including:
Uneven Cooking Due to Heat Blockages – If you fail to keep your grill nice and clean food can start to stick to the grill surface (especially sticky sauces, such as barbecue sauce), reducing the amount of heat that actually reaches the food. When this buildup on the surface starts to become significant, you could end up with half-burnt, half-undercooked patties and sausages. Dangerous if not disgusting!
Attracting Vermin and Dangerous Animals – Not cleaning your grill means you're effectively leaving out small amounts of cooked food. The smell of this food will undoubtedly attract hungry animals. Depending on where you are, that could mean anything from rats to bears.
It's Going to Smell Bad – There's no doubt that a barbecue in full flow produces one of the nicest smells known to man. If you keep your grill indoors and don't clean it, pretty soon that smell is going to become putrid as the leftover food begins to rot. Are you really going to let it stink your home or garage out?
It Might Not Work – If you're using a charcoal, wood or similar type of burner, you'll have to clean out the ash eventually, otherwise it will clog the air flow, meaning it will be starved of oxygen and cease to function correctly.
You Could Get a Bad Name – Grills, like cars, are often a big source of pride. If you never washed your car, your neighbours would probably talk about it. It's the same with your grill, only now you're asking them to eat off of it.
Knowing how to clean your grill is essential, and this will depend on the exact type of bbq you have. If it came with an instruction manual, you should look there. Otherwise, for bbq cleaning, Toronto has a number of commercial options you might want to consider. What's certain is that you should never leave your bbq uncleaned, for the sake of your safety, health and reputation.