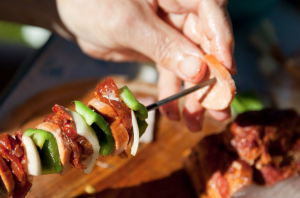 The nights are cooling down, the leaves are changing into a beautiful rainbow of reds, golds, and yellows. Autumn is here, and it's time to get out the grill, some BBQ metal skewers, and the s'mores. Enjoy these delicious fall grilling ideas with your family and friends.
Super Shish Kabobs
Shish Kabobs are always a crowd-pleaser. With a tantalizing mix of meats and veggies on BBQ metal skewers, you can please any foodie with this simple dish. Make a Hawaiian inspired kabob with ham, pork, pineapple, and green peppers, or go for a meaty mix of steak, mushrooms, tomatoes, and peppers. For vegetarians, combine different types of squash with scrumptious portabella mushrooms, and lush garden tomatoes.
Beer Can Burgers
Made popular by the YouTube sensation the BBQ Pit Boys, beer can burgers are a mouth-watering addition to any grill-out. Family and friends will be talking about these burgers for years to come. After seasoning your ground meat to taste, roll the meat into balls about the size of a very large fist. Place a beer can in the middle of beef, molding the meat around the can to make a deep hole. If your burger looks a little bit like a volcano, then you have done it right. Take out the can and wrap the burger in bacon.
Now for the fun part! Stuff the hole with a combination of your favorite burger fixings – peppers, onions, mushrooms, cheeses, hot peppers, and more bacon! Grill up the burgers and serve the monstrosity on a bun. Trust me, this is a guaranteed party pleaser!
On the Grill Chili
Next time you want to make a batch of chili, try it on the grill. Chilis and stews are relatively simple to grill. Be sure that you have a large cast iron dutch oven or pot. Brown the meat and veggies first. Then make your chili as you would normally, mixing in the canned beans, tomato paste, crushed tomatoes, peppers, onions, and seasonings. Reduce the temperature to around 150 Celsius, and cook for about an hour. Be sure to watch the pot to avoid burning. The smoky rich taste of grilled chili will make your mouth water!
These delicious fall grilling ideas are a great way to bring family and friends together around some really incredible food. Happy grilling!