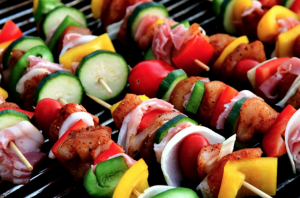 The holidays are right around the corner. There is no better time to give the grill lover in your life a gift that they will love. From the latest gadgets in modern grill design to fun seasonings and apparel, here is a list of the top Christmas gifts perfect for every grillmaster.
The Quesadilla Grill Basket
What to get the grill lover who has everything? The handy grill design of the Quesadilla Grill basket makes grilling up a batch of delicious cheesy quesadillas as easy as a few flips of the wrists. Make wonderful mouthwatering Mexican dishes with this reusable basket.
An Ultimate Clean Grill
Does your loved one's grill look like it has seen much better days in the past? Surprise your loved one with a professional grill cleaning. They will love their professionally painted, scrubbed, and refurbished grill. Make it look just like new!
Himalayan Salt Plate
Rest your freshly cooked meat on this incredible salt plate. The meat will be infused with salt and flavor. Durable and attractive, the Himalayan salt plate will last for a long time.
The Grill Cleaning Robot
There are a variety of gadgets that will clean a grill easily after every use. The Hammacher Schlemmer Grill Cleaning Robot is one of the higher end models, handling the dirty work of regular scrubbing.
A New Grill
Maybe it is time to replace your loved one's grill? No worries. Order a high-end grill and call a professional BBQ assembly team to put it together for you in a snap! Enjoy years of memories with your new grill.
S'Mores Roasting Rack
What is more delicious that grilling s'mores? This handy and very affordable Christmas gift quickly makes tasty marshmallow treats without a big mess. Enjoy the sticky sweetness with little clean up!
The Grill Sergeant Apron
Do you want to get your grillmaster the ultimate in aprons? Imagine an apron with the ultimate functionality of a Batman utility belt, with pockets for gadgets and refreshments, all in a quality camo design.
Give the gift of awesome this year. Let the BBQ grill lover in your home enjoy a gift that is uniquely perfect for them.